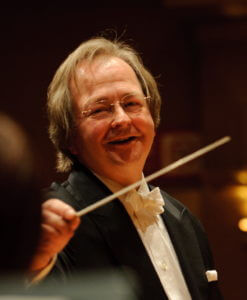 What makes the Tokyo Sinfonia so special? No. 2
In the midst of rehearsals for a Russian pro-gramme years ago, one of our management team commented, "That sounds wonderful, Robert. What are you going to do for an encore?
" … " Hmmm, what do you suggest, Roger?"
"Why don't you do Tea for Two?"
"Tea for Two — that's a great idea; but Tea for Two is for full orchestra: flutes, oboes, clarinets, bassoons, horns, trumpets, trombones, tuba, harp, percussion! I only have nineteen strings!!!" …"But, I have 19 strings."
So the first special Sinfonia arrangement was written in 19 separate parts, with a discrete part for each player in each section. Thence originated the variety of textures of sound, layering of parts, interaction of players and general excitement in Tokyo Sinfonia performances that our players love. That our audiences love.
The rest is history.