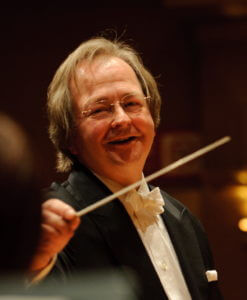 We have an unusually busy few weeks ahead of the Tokyo Sinfonia. Aside from our upcoming concerts in February and March (details for each of them below), I have been called upon to guest conduct the Honor Orchestra of select students from Tokyo's international schools.
Thinking about the families of the Honor Orchestra about to hear their progeny perform made me reflect upon the power of music as a universal language, the unique benefits of music on mental, physical, and emotional development, and the differing expectations of the orchestra before me and the audience behind me.
The young players in the Honor Orchestra before me are not a class of students. They are an orchestra.
In performance, the players in an orchestra mesh their skills together in a complex teamwork as intricate as a finely tuned Swiss watch. They react instantaneously to an unceasing, ever-varying flow of rhythm, pitch, volume, and emotional nuance to create a magical tapestry of sound to touch the heart, mind, and soul of the audience.
In the audience, listeners may believe that the performance is an exercise for the students. In the orchestra, players know that the performance is always for the audience.