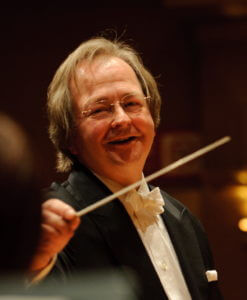 Our Pioneer
Robert Rÿker has founded orchestras on three continents – the National Philharmonic of India, the North Bay Symphony in Canada, and the Tokyo Sinfonia.
He has written over 500 musical arrangements, compositions and orchestrations.
He has lectured on Conducting for the Midwest Orchestra Conference in Chicago and served for a decade as senior music critic of the Japan Times, with an international reputation as a discerning writer on music.
His recordings of works by Bach, Barber, Beethoven, Britten, Dvorak, Gershwin, Grieg, Lalo, Mendelssohn, Mozart, Reed, Schubert and Shostakovich have earned high praise for their balanced sonorities, sensitive pacing and profound expression.
Writing on Maestro's performance, Montreal critic Robert Markow commented:
"Bravo! a true interpretation, an approach that features firm control of rhythm, accuracy of attacks and releases, good flow and momentum, and an almost classical approach. Refreshing. Excellent orchestra, too."